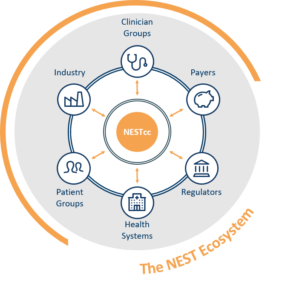 The National Evaluation System for health Technology Coordinating Center (NESTcc) seeks to support the sustainable generation and use of timely, reliable, and cost-effective Real-World Evidence (RWE) throughout the medical device lifecycle, using Real-World Data (RWD) that meets robust methodological standards, currently undergoing development by NESTcc's Data Quality and Methods Subcommittees.
The current fragmented health care ecosystem does not support the seamless, near real-time, cost-effective use of health data to generate high-quality evidence for medical devices needed for regulatory decision-making in both the pre- and post-market spaces.
Stakeholders across the medical device ecosystem stand to benefit from improved use of RWE and RWD generated in the course of clinical care and everyday life by patients, providers, or payers. Opportunities include increased patient awareness of device safety issues, low-cost efficient evidence generation for regulatory review, and improved patient and provider ability to make care decisions based on robust data.
Read the full, open-access article on the role of NESTcc in advancing RWE for medical devices here.
History
A Planning Board convened by the Duke-Margolis Center for Health Policy in late 2015 envisioned NEST as a voluntary network of data partners able to efficiently consolidate RWE to inform medical device evaluation and support regulatory decision-making throughout the total product life cycle (TPLC).
In September 2016, FDA awarded a grant for the NEST Coordinating Center (NESTcc) to the Medical Device Innovation Consortium (MDIC). MDIC is a 501(c)(3) public-private partnership with the objective of advancing approaches that promote patient access to innovative medical technologies. The selection of a third-party entity was important given the need for NESTcc to establish relationships and agreements between partners in a neutral, objective manner and to solicit a balanced representation from stakeholders.
NESTcc named an Executive Director in April 2017 and established its inaugural Governing Committee, comprised of stakeholders across the medical device ecosystem, just three months later. By the end of 2017, NESTcc finalized and began execution of its Strategic and Operational plan, a five-year approach to building a fully operational and sustainable Coordinating Center.