A new mission and vision for the NEST Community

The Need for a Paradigm Shift
As NEST moves into a new era of knowledge, expertise, and capability, it is time to shift our thinking on the scope of what our community can accomplish together, and what drives us to forge ahead. I am thrilled to unveil NESTcc's new mission and vision which will serve as guideposts for everything we do: 
Mission:

The NEST community is passionately committed to transforming the way medical device technologies are tested, approved and monitored. ​
Vision:

We envision a world in which people are empowered to make informed medical choices that enable patients to live their lives to the fullest extent possible.​

 
The adoption of a new mission and vision for NESTcc marks an inflection point not only for the Coordinating Center, but also for our entire community of stakeholders. The medical device ecosystem is complex, diverse, and passionate, and it was important to reflect this in NESTcc's approach to working along with other leaders to solve some of our biggest health care challenges. That passion and dedication needs to be channeled towards our number one beneficiary: the patient. 
This pivot demonstrates the significance of NESTcc's work, not just for the purposes of allowing for better, faster and cheaper innovation and regulatory review, but making it better, faster and cheaper for patients to become empowered. Our new mission and vision statements are also indicative of the evolution of our Research Methods Framework and Data Quality Framework from guidance documents to ecosystem standards.   
As NESTcc continues to partner with top health system providers, academic research institutions, payers and professional society registries in our growing Research Network and facilitating research studies trusted by regulators and valued by industry, we are utilizing our expertise to help define standards that can be trusted by all stakeholders. Ensuring these standards are met in order to benefit the end users of these devices, the patients, is what drives us as a community behind our new mission and vision.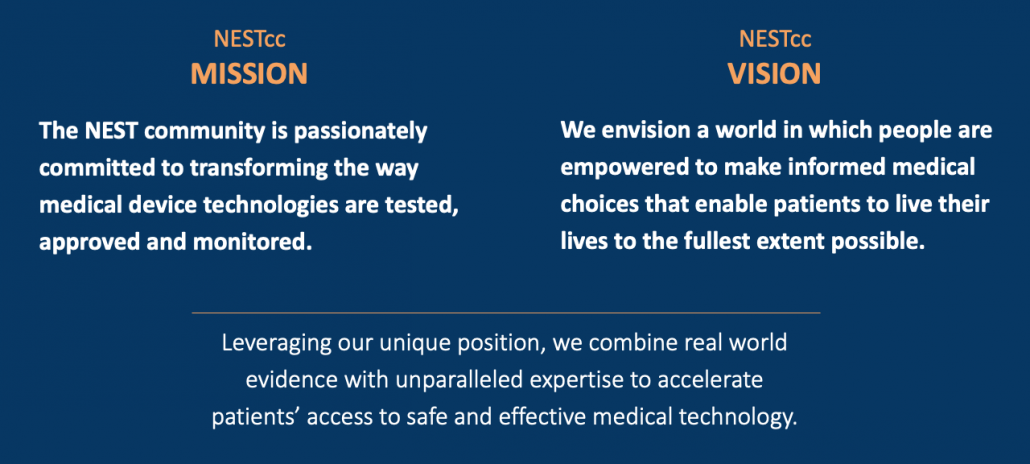 Engaging the NEST Community
Representation from across the NEST community is crucial to ensuring that the voices of all of our stakeholders are heard, including patient representatives. NESTcc's Governing Committee, Research Methods and Data Quality Subcommittees, Active Surveillance Task Force and IT Cloud and Methodology Working Groups, and our Collaborative Community consist of members from across the ecosystem whose experience and opinions are invaluable to achieving our mission. 
Patients are so much more than just a single stakeholder group; they are a partner in their health care and are at the heart of everything we do. Programs like the NEST Collaborative Community and MDIC's Science of Patient Input are striving to both engage and empower patients, and our new NEST mission and vision help to frame our approach to success.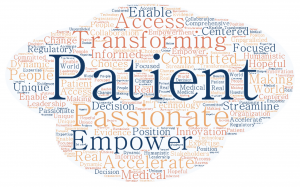 The NESTcc team contributed their input on our new mission and vision statements, and I am proud to lead such a dedicated group whose primary focus is on empowering the patient.
A
Unique
Stakeholder
NESTcc is a neutral organization and does not require membership to participate in any of its initiatives. We welcome all ecosystem stakeholders to the table, many of whom have differing goals and areas of focus, but our organization's conviction remains aligned to achieving our mission. Our unique reach, breadth and depth of knowledge across industry, regulators, health systems, research organizations, payers and patient groups position us as a trusted convener focused on driving science forward.  
Collaborations with our partners bring meaningful innovation and new approaches, such as solving challenges in utilizing real-world data (RWD) with our Network Collaborators, advancing the use of unique device identifiers (UDI) to address data linkage and supply chain challenges and developing a robust active surveillance system for medical devices for signal detection. The advancement of active surveillance to improve device availability and safety for patients through a cloud infrastructure approach has the potential to change how devices are evaluated, how they come to market, and how their performance is measured throughout the total product lifecycle (TPLC) from clinical entry to sunset. These types of efforts seek to benefit stakeholders across the ecosystem and leverage NESTcc's real-world evidence (RWE) expertise to accelerate patients' access to safe and effective medical technology​. 
Join Our Community
Our goal is for the NEST community to be truly representative of the widest number of medical device ecosystem perspectives possible, and not to be confined to a specific group of therapeutic or advocacy areas. Collaborative participation from all of our partners will be paramount in the continued development of standards such as the Research Methods and Data Quality Frameworks, our forthcoming Active Surveillance Roadmap, and the ongoing patient-centric Collaborative Community UDI initiative.  
On behalf of the team at NESTcc and all of our partners across the medical device ecosystem helping to make our new mission and vision a reality, I invite you to become a part of our community, get involved in our initiatives or contact us to discuss your research aims. We look forward to working with all of you to usher in a new paradigm for medical device research.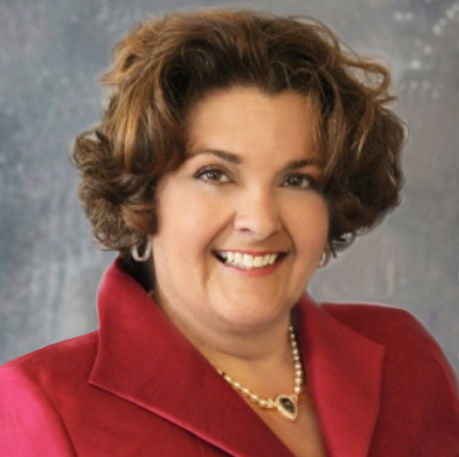 Sandra Siami, MPH
Senior Vice President, NESTcc, Medical Device Innovation Consortium