It has been a busy start to the fall for NESTcc and our team has been hard at work advancing our strategic and operational goals. Having been at NESTcc for about six-months now, I wanted to share with you a few highlights of the work that is underway:
Identifying Solutions for Real-World Evidence
In October, we announced the designation of three exciting projects as NESTcc Demonstration Projects. These projects test two approaches to leveraging Real-World Data (RWD) and generating Real-World Evidence (RWE):
The first approach focuses on developing an electronic health record (EHR)-based network in a large health system to support evidence generation for medical devices across the Total Product Life Cycle (TPLC).
The second approach tests the feasibility of using a mobile health (mHealth) application that aggregates multiple sources of health data—with patient consent—to augment post-market surveillance.
While these projects make use of data generated post-approval, they have the potential to produce insights that can inform pre-market requirements and decisions across multiple medical device classes and medical technologies. We're currently in the review process for the second round of projects and the call for Demonstration Projects for the third round is open until November 1st. We're looking forward to working collaboratively with these Projects. The investigators bring a wealth of experience, enthusiasm, and important insights to the NESTcc community.
Forging New Data Partnerships to Advance RWE
NESTcc is engaging data partners, including health systems, to identify areas for potential collaboration on RWE. To date, we've had two webinars with these data partners and received valuable insight into their perspectives on the potential value of RWE for their communities and their needs from NESTcc. Over the next few weeks we'll work with our partners to understand existing capabilities for RWE, and we'll then begin to identify gaps and co-create solutions to provide pathways to generate high-quality evidence for regulatory and coverage decisions across a range of devices and technologies.
Engaging with our Stakeholders
One of our key priorities is working to increase awareness of NESTcc and drive forward the value of RWE. We've been on the road at conferences and events, sharing and discussing NESTcc with stakeholders like you. In September, we were pleased to be a part of the 2017 RAPS Regulatory Convergence here in DC's National Harbor, the AdvaMed MedTech Conference in California, and the IMDRF Stakeholder Forum in Ottawa. I also had the opportunity to share NESTcc's progress and strategy in an NIH Collaboratory Grand Rounds Webinar (click here to access a recording and summary of the session).
Earlier this month, NESTcc Governing Committee members Dr. Adrian Hernandez, Dr. Michelle McMurry-Heath, and Dr. Jeff Shuren joined me on stage at the MDIC Annual Public Forum, where we discussed current NESTcc developments, strategic priorities, and future opportunities for NESTcc from the perspective of the clinical research world, industry, and the FDA. You can watch the session here.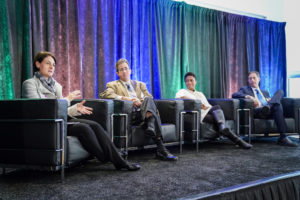 NESTcc panel at the MDIC Annual Public Forum (Left to right: Dr. Rachael Fleurence, Dr. Adrian Hernandez, Dr. Michelle McMurry-Heath, Dr. Jeff Shuren)
In the coming weeks, I'll be discussing NESTcc at ICHOM (October 25th in Washington, DC) and the 29th Annual Scientific Symposium of Transcatheter Cardiovascular Therapeutics, TCT 2017 (October 30th in Denver, Colorado).
Building the NESTcc Team
After my first few months here, the NESTcc team is beginning to grow. Rachel Rath joined NESTcc as the Deputy Director in August and Hither Jembere joined NESTcc in September as a Project Manager.
In the coming months, NESTcc will be defining its long-term business and sustainability plan as well as launching efforts pertaining to data quality and actively engaging with data partners to develop a long-term strategy. I'll continue to post periodic updates, but in the meantime, connect with us on Twitter to stay up to date on NESTcc news (@NESTccMedTech).

Rachael Fleurence
Executive Director
NESTcc
https://nestcc.org/wp-content/uploads/new-logo-156-height.png
0
0
Sean McNabb
https://nestcc.org/wp-content/uploads/new-logo-156-height.png
Sean McNabb
2017-10-23 14:03:47
2019-09-10 17:51:09
A Busy Fall for NESTcc